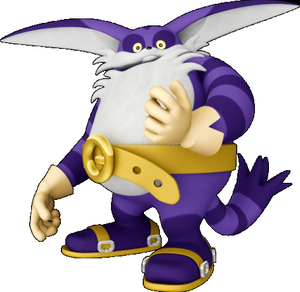 Big the Cat (ビッグ ・ザ ・キャット, Biggu za Kyatto) is among the largest characters from the Sonic the Hedgehog series.
Big made his debut in Sonic Adventure for the Sega Dream Cast, in which he had to fish for his friend Froggy. After catching his friend in Hot Shelter they are taken into the past by Tikal. Big then fishes Froggy out of Chaos.
Big is the power type member of Team Rose in Sonic Heroes, teaming up with Amy & Cream to find Froggy & Chocola.
Quotes
"Hold on Froggy, I'm coming!"
"Froggy where are you?"
"Oh There you are Froggy"
"We could give Big some ice cream!"
Trivia
His friend Froggy is simular to Cream's friend Cheese.